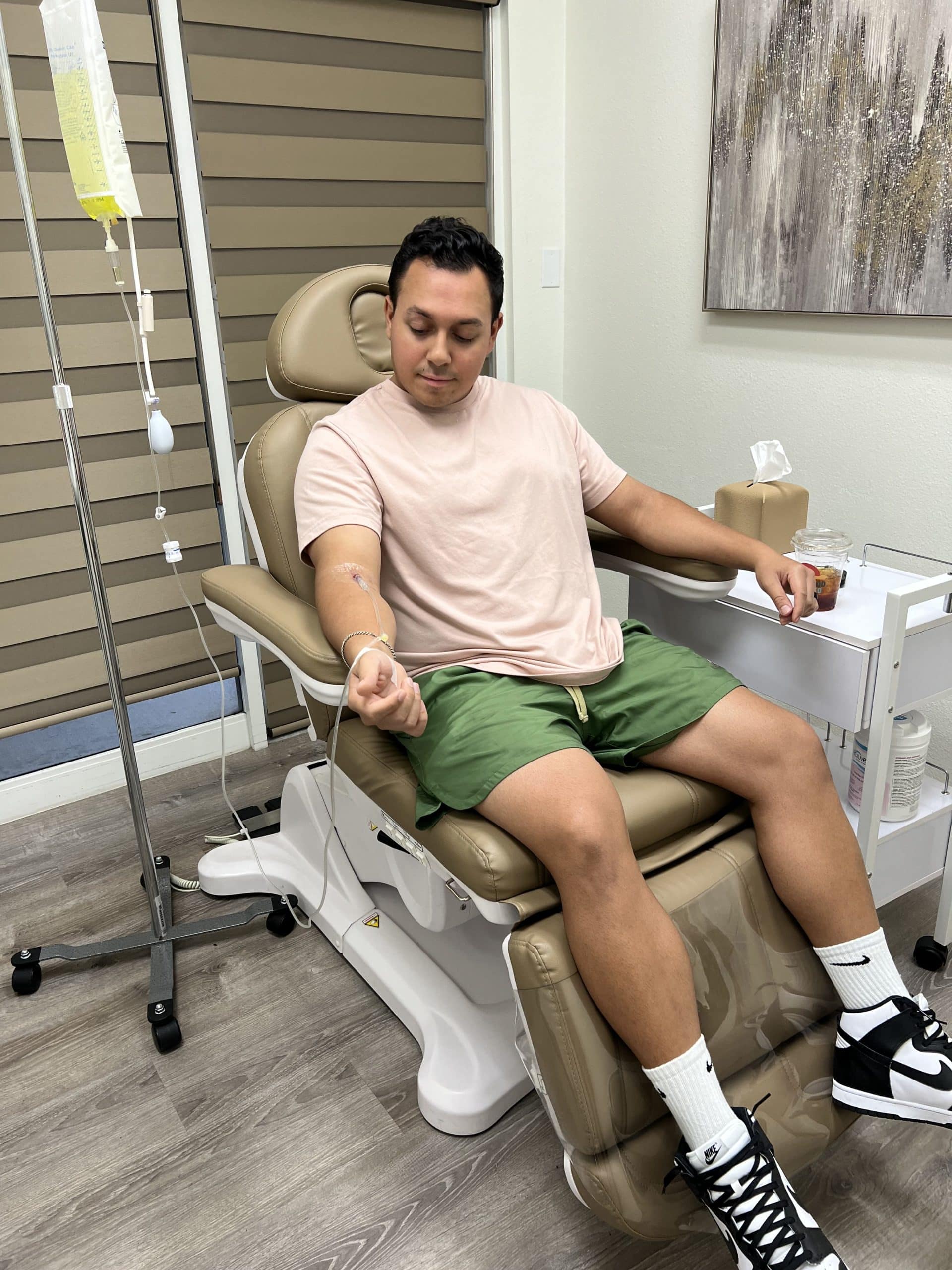 IV Therapy offers an effective solution to counteract the impact of everyday stressors, toxins, ailments, and fatigue on our bodies. This method delivers a carefully crafted blend of vitamins, minerals, and nutritional elements directly into the body via an intravenous route, ensuring a 100% absorption rate surpassing oral supplements' efficacy. Our team of certified professionals will administer these specialized mixtures with ease, providing a comfortable experience. As the infusion takes place, you can sit back, unwind, and embrace the remarkable advantages of IV Therapy.
What Sets IV Therapy Apart?
IV Therapy is a swift and efficient strategy to rehydrate the body and furnish it with vital nutrients for instant absorption and utilization. Whether you're feeling drained, dehydrated, or simply seeking a concentrated dose of our distinctive nutrient blends, IV Therapy is an optimal approach to invigorate your body. Its impact extends far beyond that of traditional oral supplements. Tailored to your chosen IV infusion, each blend brims with meticulously calibrated levels of essential amino acids, electrolytes, vitamins, and minerals. Through IV Therapy, you can experience heightened energy levels, improved metabolic functionality, muscle relaxation, enhanced hydration, expedited recovery, and an overall fortified state of health.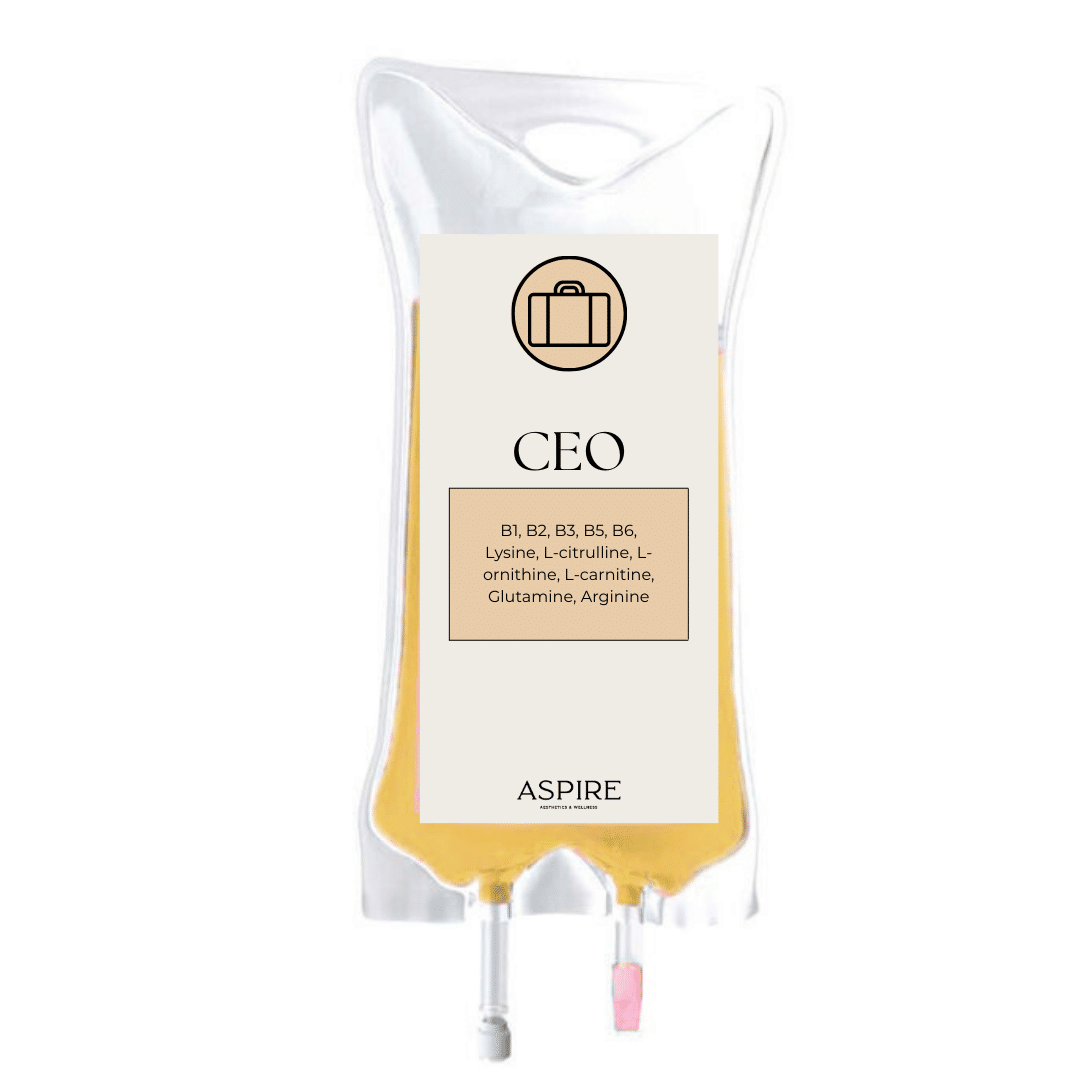 Our CEO IV is an enriching blend of nutrients for extraordinary vitality, increased mental stamina, reduced stress, and a physical performance boost, perfect before a big work presentation or half marathon. The B family of vitamins is present in nearly every chemical reaction within the body, and these interact with the other nutrients to give you a general boost of overall wellness.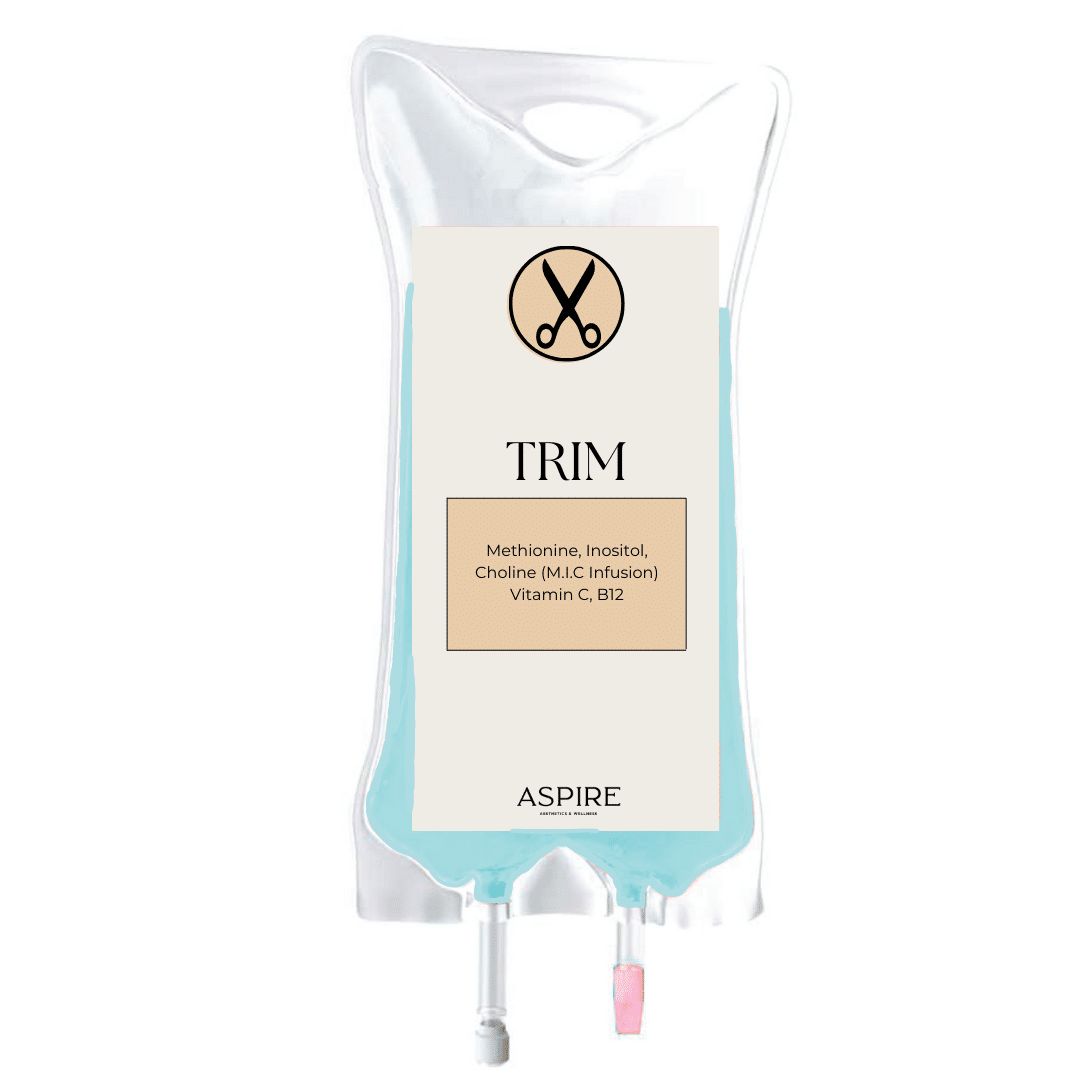 It provides an infusion of Methionine, Inositol, and Choline for a unique weight-loss formula that helps you beat stubborn body fat, lower cholesterol, and support muscle health. These vitamins and minerals interact seamlessly with your body chemistry – finding a balance in your routine and boosting energy and vitality to accelerate your fitness journey like never before.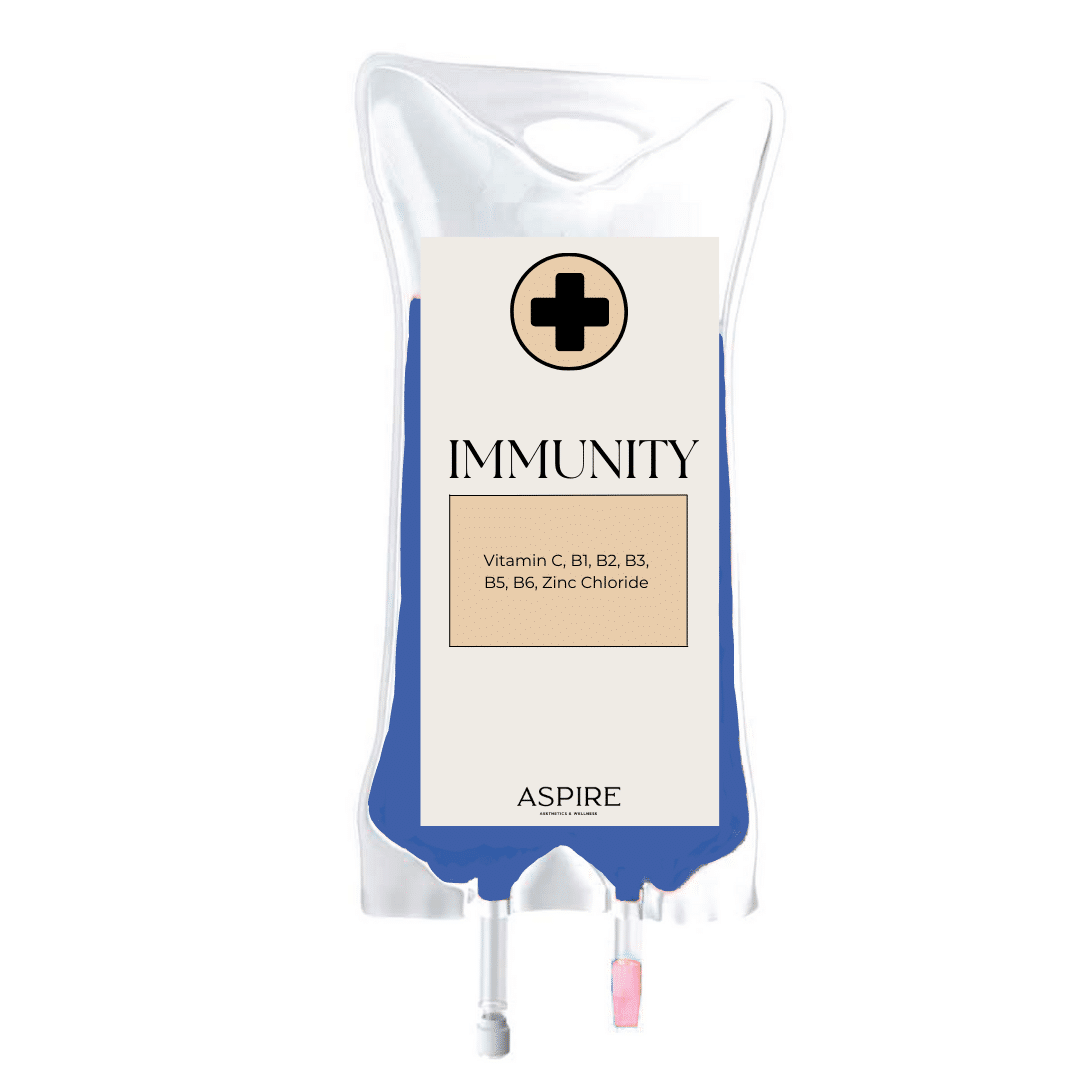 Immunity IV comprises essential vitamins that enhance recovery and facilitate a swift rebound. Vitamin C, a potent element in combating illnesses, aids the absorption of iron – a crucial component for generating red blood cells and expediting recovery. In tandem, Zinc Chloride and a fusion of B Vitamins amplify the immune system's potency, hastening the healing of injuries and alleviating cold-related symptoms. Immunity IV is the perfect remedy for sensing the approach of a cold, especially when confronted with an upcoming eventful weekend getaway or a significant professional presentation.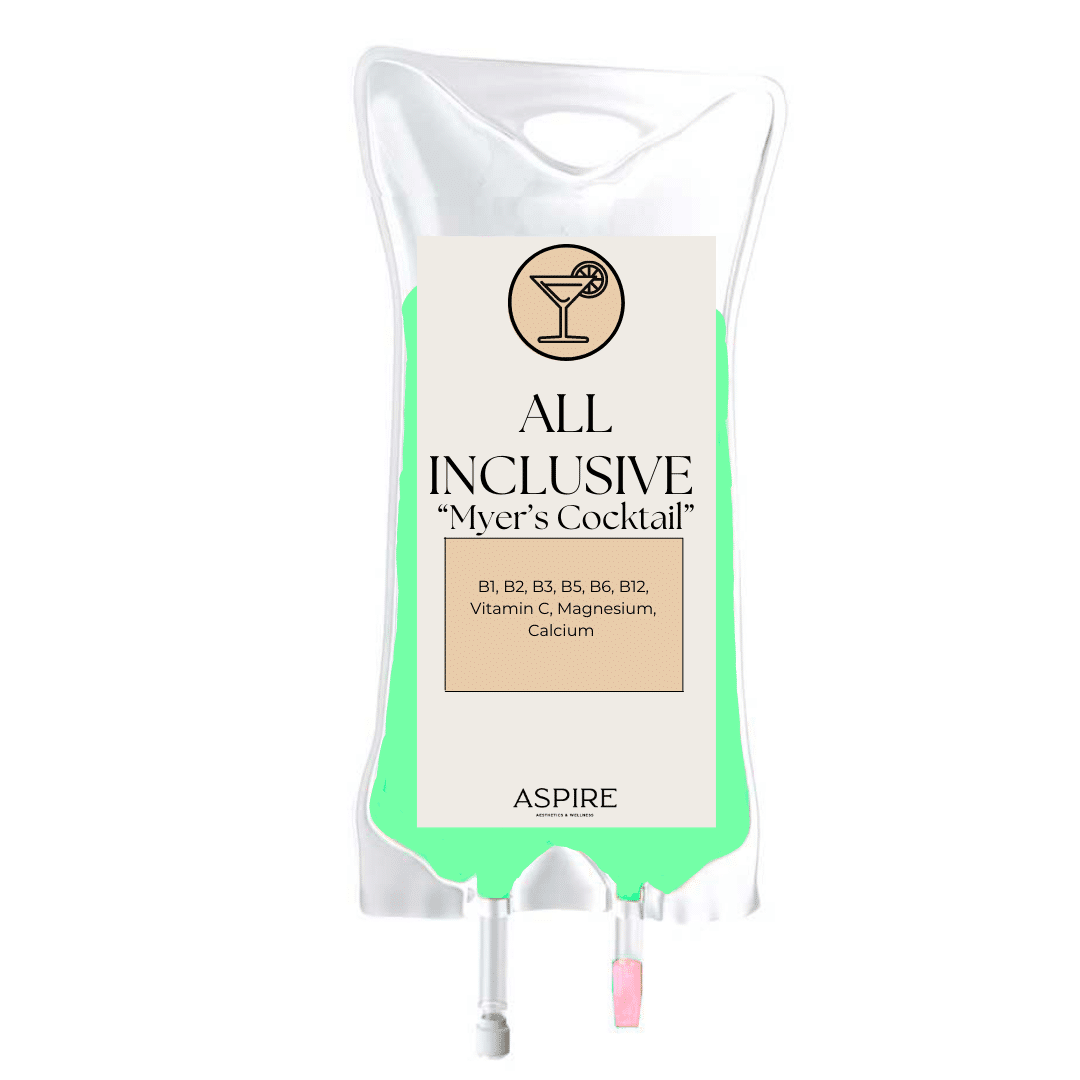 ALL INCLUSIVE
"Myer's Cocktail"
This powerful blend of B Vitamins and minerals puts a modern twist on the classic energy IV, with an expanded range of nutrients to energize your body inside and out. B vitamins provide energy and mental clarity while detoxifying the body, and calcium works alongside magnesium and Vitamin C to support muscle and bone health. Your body just discovered a new way of wellness, and it's called Myer's Cocktail.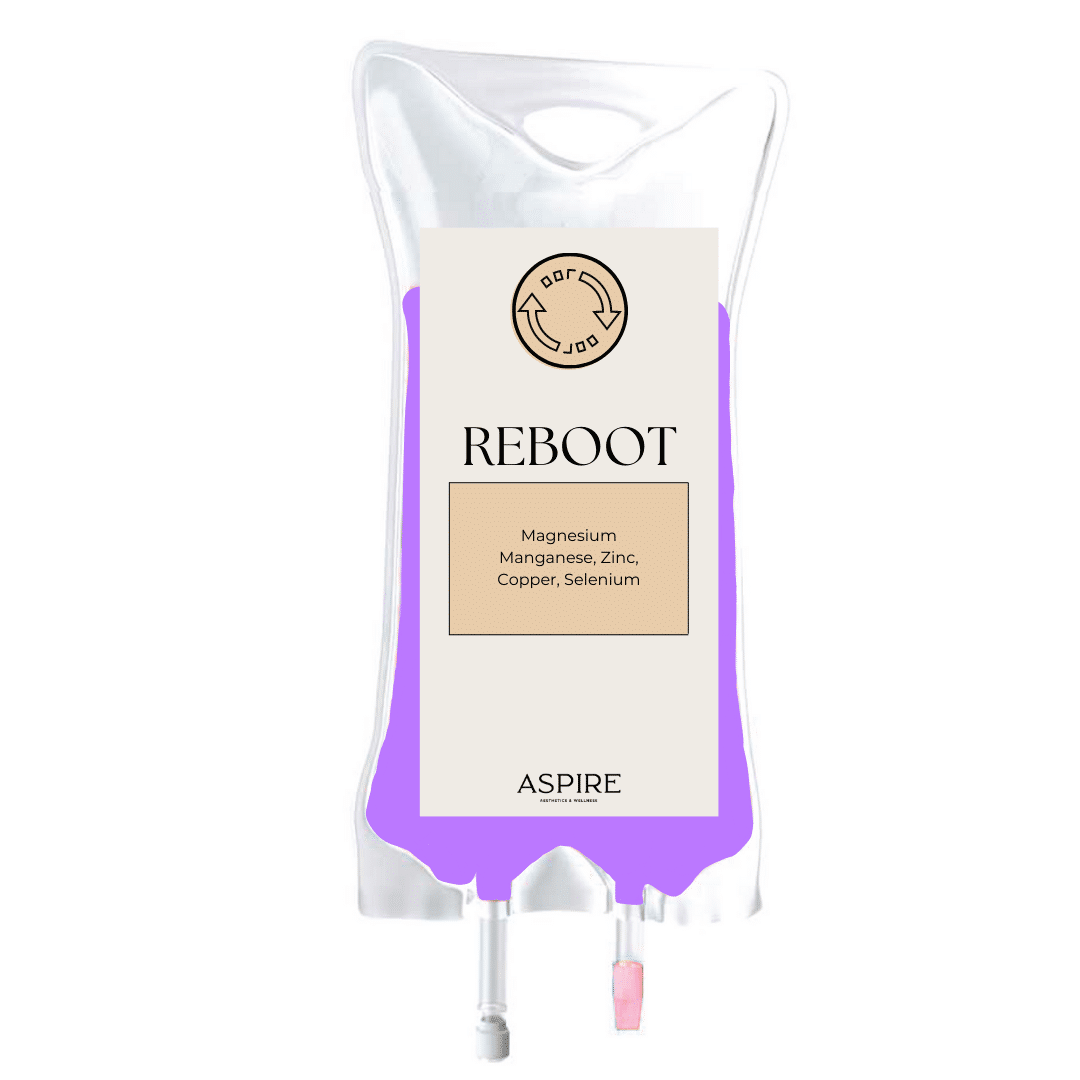 Beat dehydration and restore electrolyte balance with a balanced vitamin blend to flush out alcohol toxins—perfect for a little post-party pick-me-up or resetting your body and mind. You should be allowed to have fun without feeling terrible the next day, and this IV features ingredients like Magnesium, Manganese, Copper, and Zinc to help you feel like a human again in no time.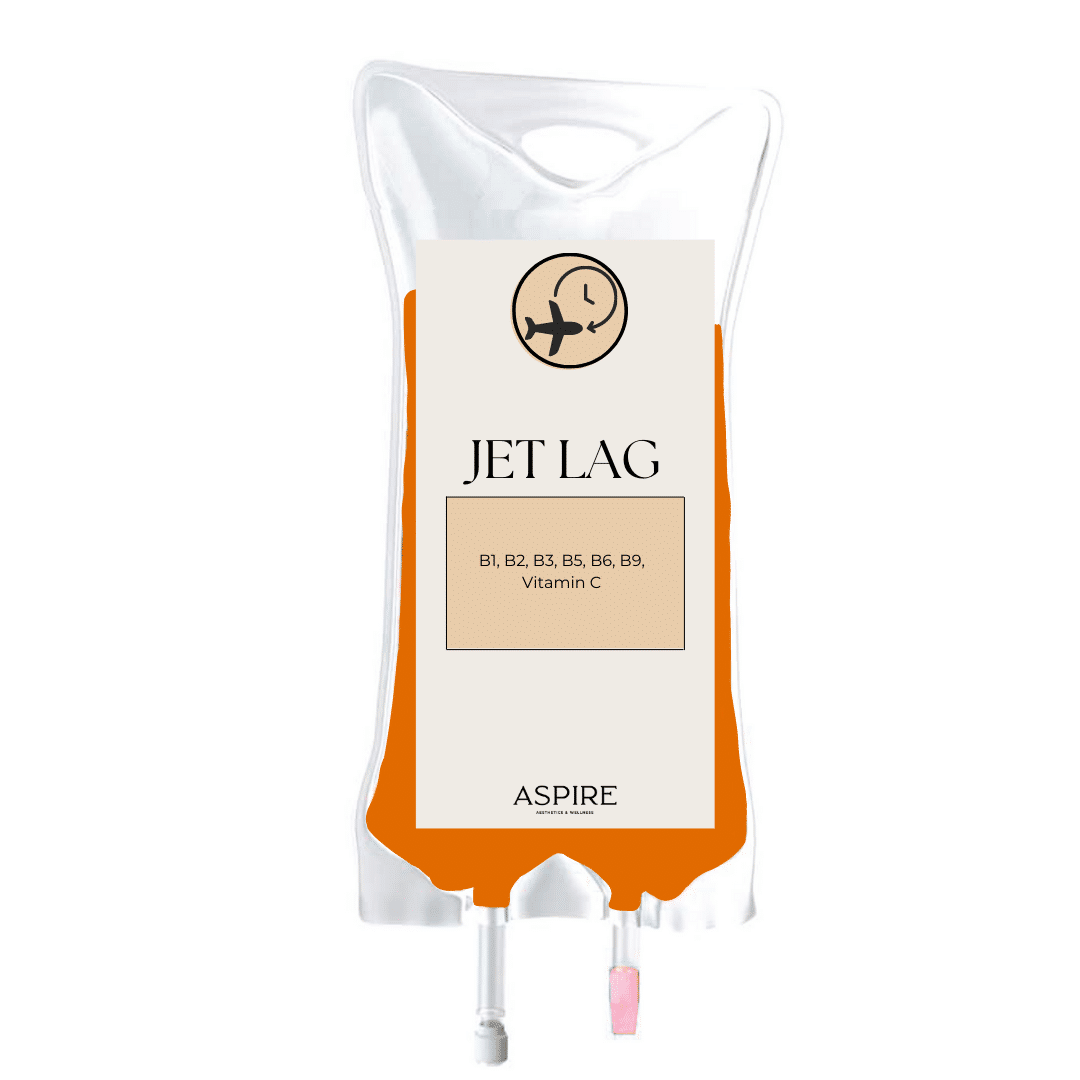 An IV for those always on the go. As much as you loved your weekend trip, you don't want to feel it still days after you get off the plane. This enriching blend of B Vitamins and Vitamin C boosts mental stamina and increased energy for the ultimate pick-me-up, helping you improve focus and easily adjust to your daily routine.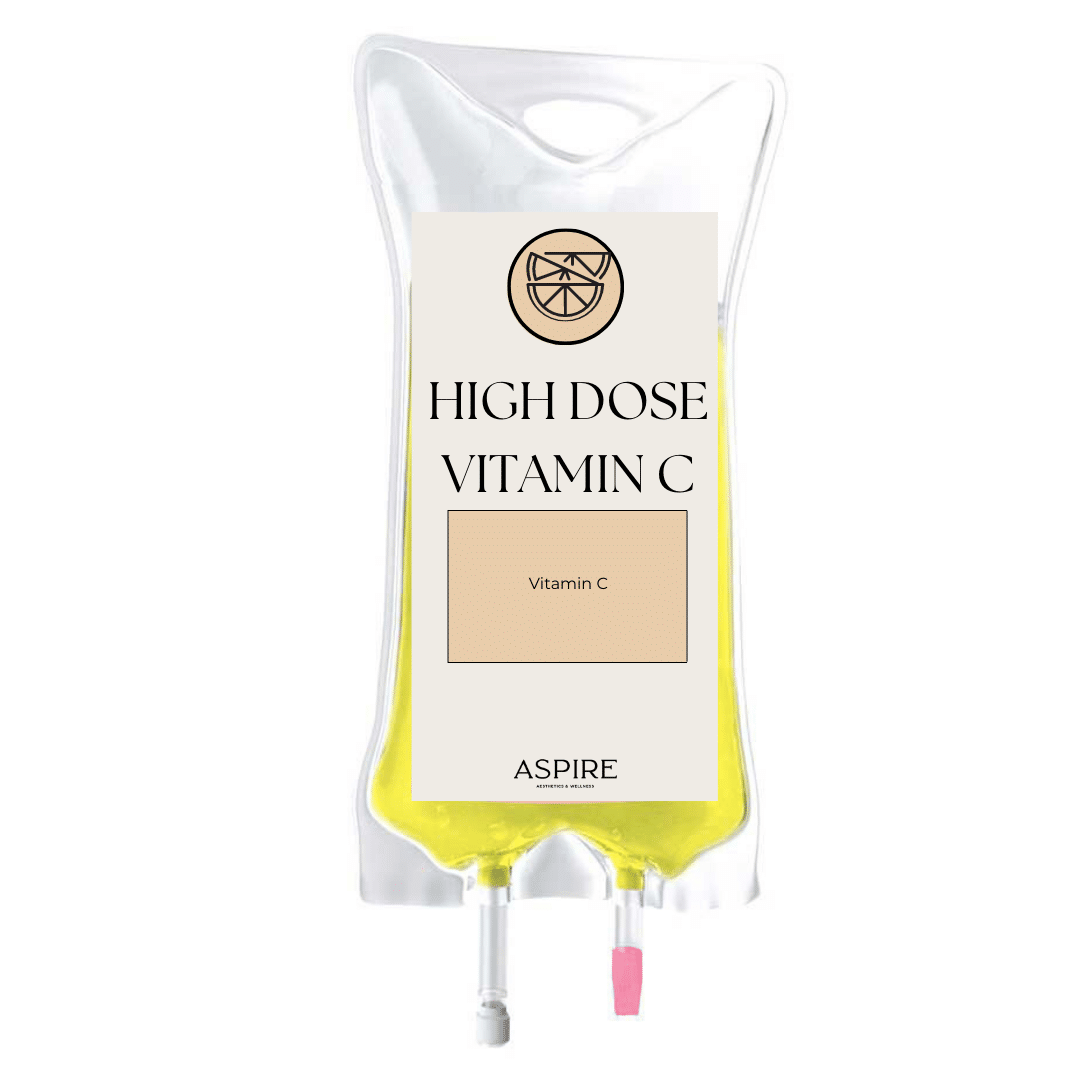 This IV contains 10grams of the classic nutrient to strengthen the immune system, improve muscle health, and give you a glowing complexion. While Vitamin C is necessary for general health and wellness, the body cannot produce this substance. Our IV is here to provide you with a major boost—way more quickly than a glass of O.J. Sit back, relax, and let us deliver the sweetest IV ever.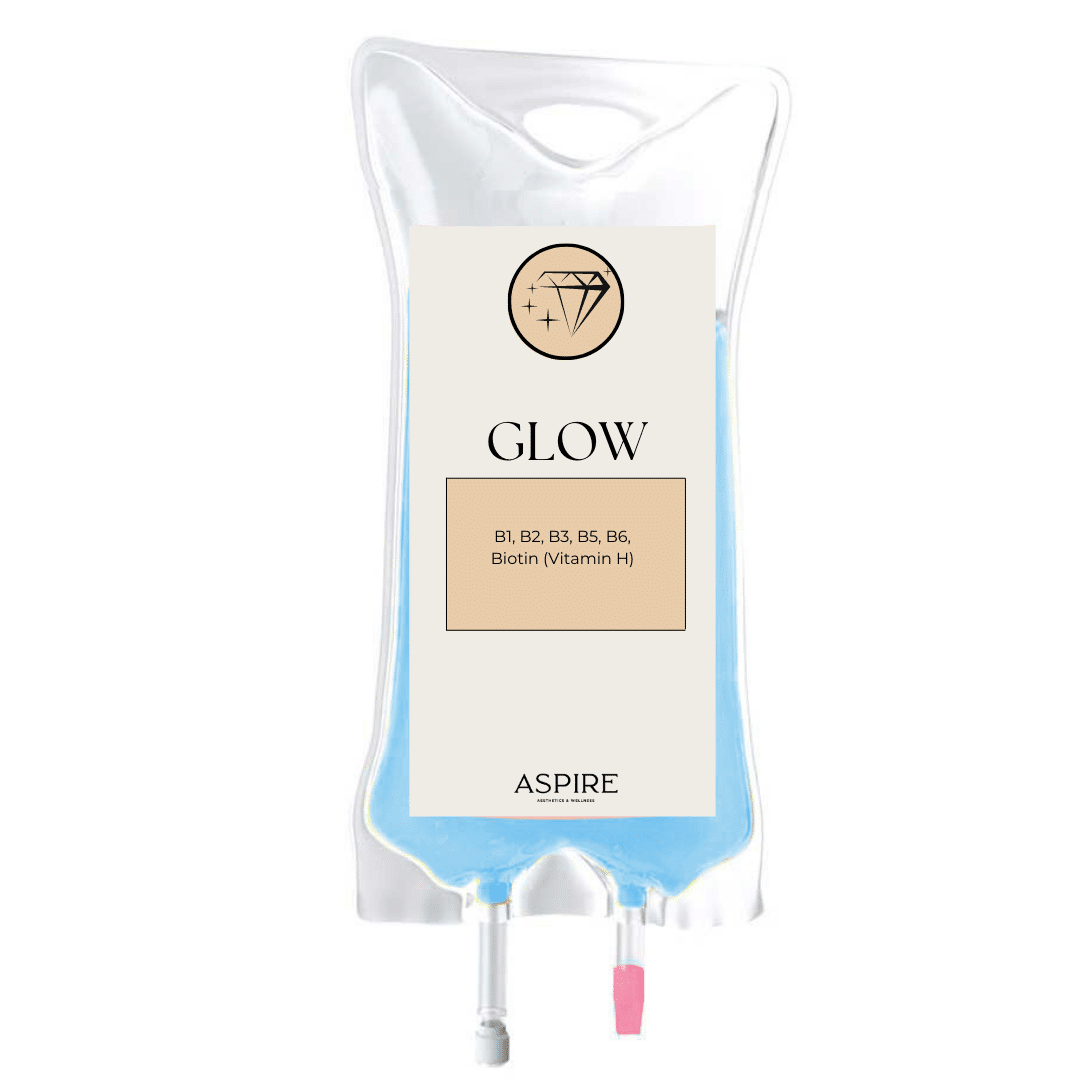 Ultimate radiance awaits with this beautiful blend of Biotin and B Vitamins, supporting skin and hair health while fighting against free radicals. The Glow IV is the perfect addition to your beauty routine, working alongside your favorite skincare products to give you that lit-from-within flow and enhance skin elasticity and nail health. "B" is for biotin, a super blend of B vitamins and the next-level beauty this IV will bring you.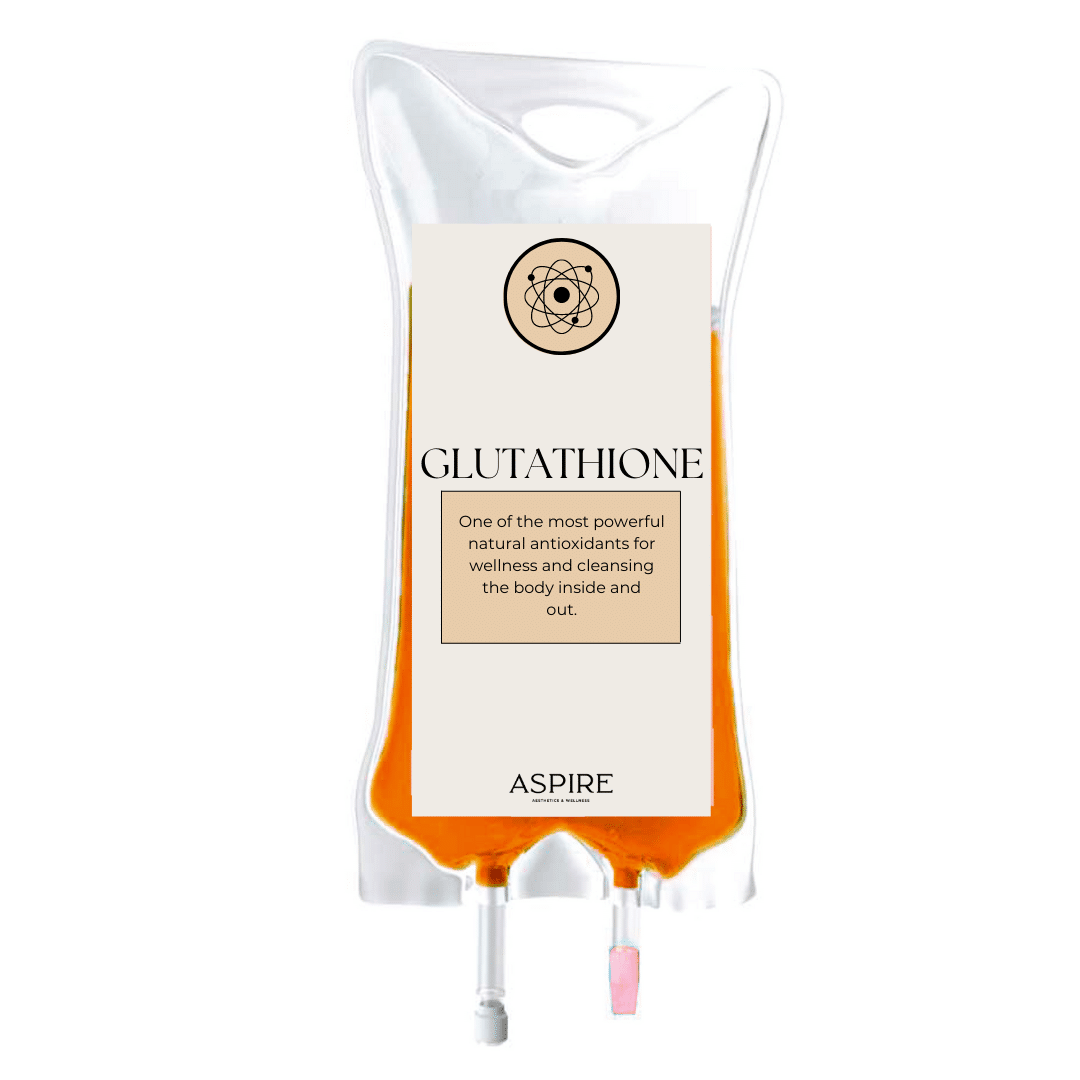 This IV provides one of the most potent natural antioxidants for wellness and cleansing the body inside and out. Glutathione is a tripeptide of three amino acids (glycine, cysteine, and glutamic acid). It assists your body in nearly all cellular functions, from providing a glowing complexion to breaking down fat to detoxifying the body. Get clearer, brighter skin and boost general wellness as this IV fights free radicals and offers many health and beauty benefits.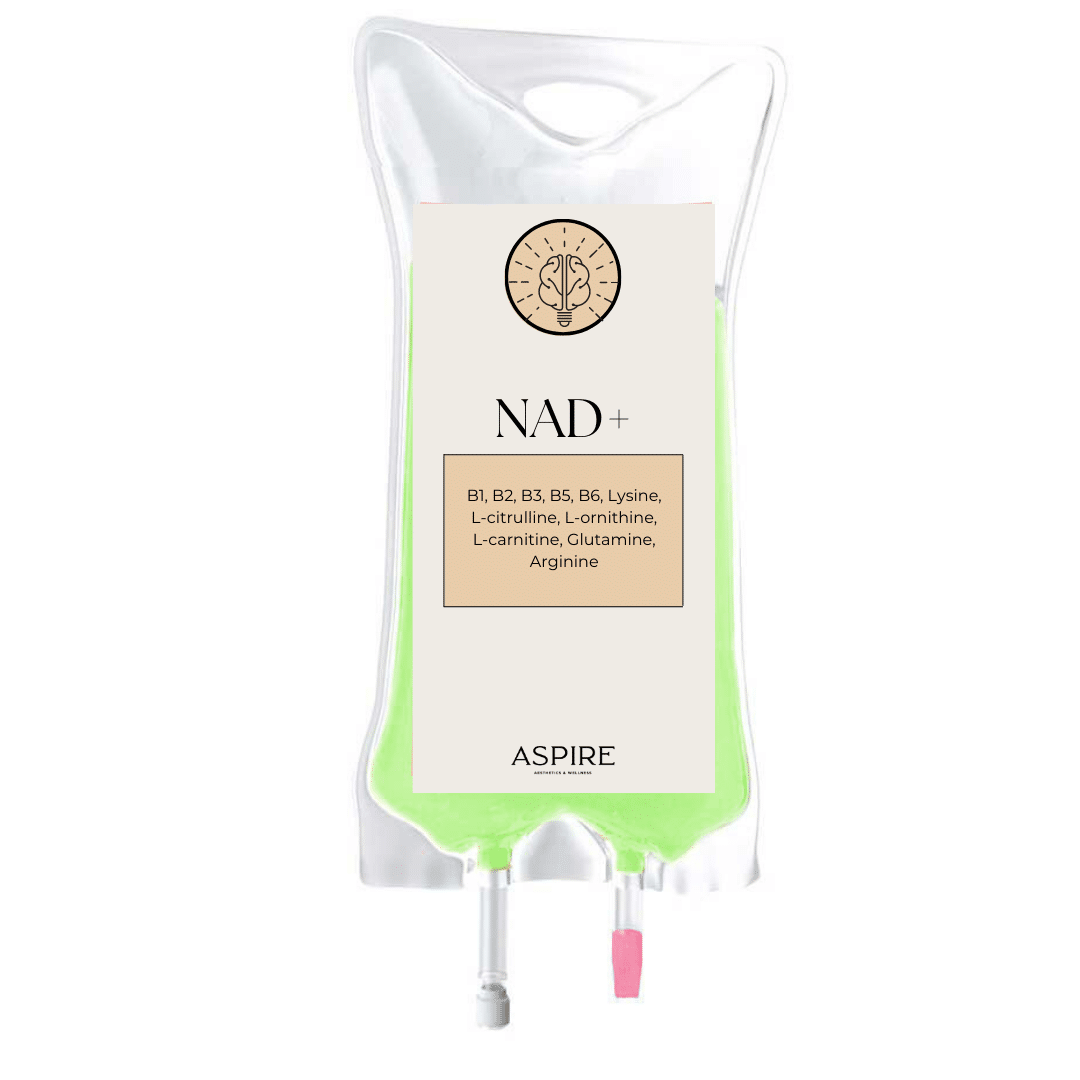 Vitamin IV for an increased overall wellness boost. The human body relies on NAD+, or Nicotinamide Adenine Dinucleotide, for nearly all essential functions. This coenzyme to Vitamin B3 does everything from improving mental clarity and reducing stress to boosting energy and helping you appear more youthful. The bad news? It decreases due to age, genetics, and other factors. You need the NAD+ IV to deliver this substance directly into your bloodstream to boost overall wellness! Improve your mood, mindset, energy levels, mental clarity, and more with this NAD+ IV.


Feel free to reach out and ask us anything!
Feel free to reach out and ask us anything!